I took the "most likely" out, because this is just reality.
Dan Lietha's comic about Planned Parenthood: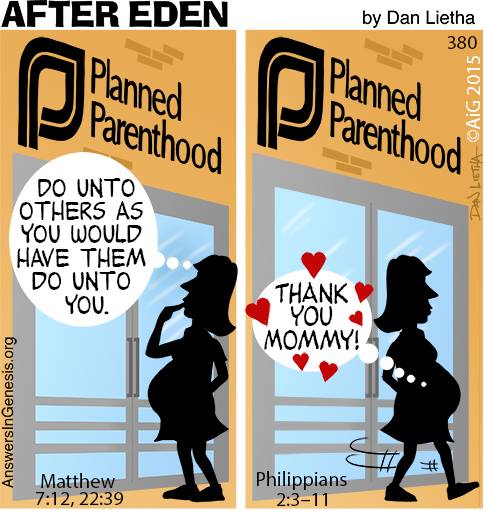 My response: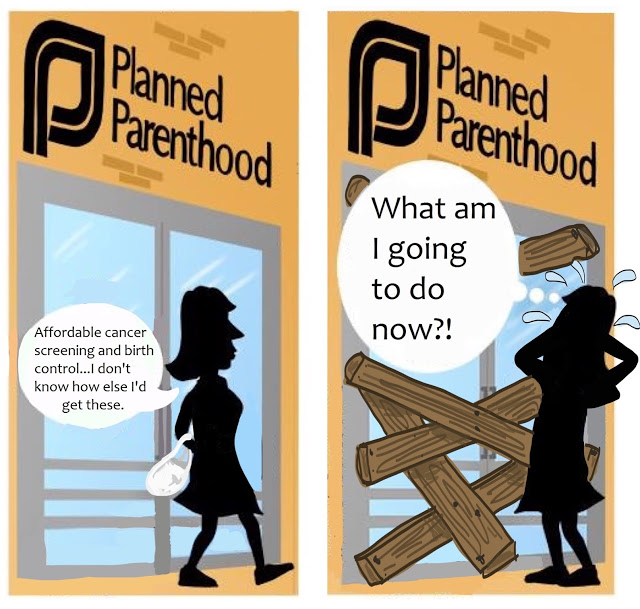 The facts:
Planned Parenthood services help prevent approximately 516,000 unintended pregnancies each year.
Planned Parenthood provides nearly 400,000 Pap tests and nearly 500,000 breast exams each year, critical services in detecting cancer.
Planned Parenthood provides nearly 4.5 million tests and treatments for sexually transmitted infections, including 700,00 HIV tests.
Three percent of all Planned Parenthood health services are abortion services.
This means, I would point out, that Planned Parenthood prevents far, far more abortions than it helps to provide, by preventing so many unwanted pregnancies. But I would also point out that there is no number of abortions that counts as "too many." Abortion should be safe, legal, and accessible. It's just so sad, so devastatingly sad, for people to think that they're curbing unwanted pregnancies by cutting funding to Planned Parenthood. They are not.
I often wonder if people who rail against Planned Parenthood– overwhelmingly male– have ever set foot in one. Have they ever discussed their services, and the experience of receiving them, with a girlfriend, wife, sister, mother, or female friend?
I've been to Planned Parenthood many times, in Texas and then in Kansas. I spent a long time without health insurance, and that was the best and easiest way to get the care that I needed. Every woman over 25 should receive a cervical cancer screening, or pap smear, once a year– they're commonly called a "yearly" for a reason.
Along with a yearly exam you get your blood pressure taken, an STD test if you elect to have one, and a consultation with a doctor about birth control options. Depending on the services offered by the Planned Parenthood you visit, you can walk out with either the birth control itself (priced based on a sliding scale, depending on income) or a referral for where to get it.
I'm watching the second GOP debate while writing this. I'm honestly convinced that no Republican candidate for president gives a damn about any of this. I find it quite easy to believe, in fact, that they don't care about female reproductive health needs at all, except when it comes to persuading women to have babies.
We are not baby machines.
We are equal.
We deserve autonomy.